25 October 2021
Helping your doctor find the answer
25 October 2021
Helping your doctor find the answer
We know the COVID-19 pandemic has brought rapid change and disruption to many. While it may seem like the clock has stood still; your health clock keeps ticking.
Over the past 18 months, health authorities have seen a reduction in attendance at GP clinics and fewer people screening for chronic diseases such as cancer. But now that things are slowly returning to normal, I-MED encourages a renewed focus on your health.
Your health is important, and shouldn't be delayed.
If you have a medical symptom, get it checked out now

You may have a family history or certain risk factors than can lead to a greater likelihood of developing certain diseases. A regular check-in with your doctor can help them to identify the early signs and commence their recommended treatment.
Most general practitioners can arrange your initial appointment by Telehealth, if that is your current preference. Depending on the nature of your visit, an in-person appointment with your GP may be advised.
Early detection can save lives

Eligible Australians can access free health screening for cancers of the breast, bowel and cervix.
We are aware that appointments for BreastScreen have been impacted or delayed in some parts of Australia due to COVID-19. These services, however, are starting to resume. We recommend you contact your local provider to determine when the next available time is.
For information on your health screening eligibility, and how to arrange your test, chat to your GP or visit the Cancer Council website.
The I-MED journey
At I-MED, our purpose is to save lives and reduce uncertainty. Our medical imaging investigations (like X-ray, CT, MRI and Ultrasound) can provide a diagnosis or, at the very least, offer medical insight.
Our radiologists (specialised doctors) work with your GP to accurately interpret your imaging, to rule out or confirm a diagnosis.
If your doctor refers you for a scan, here is what your radiology journey will look like: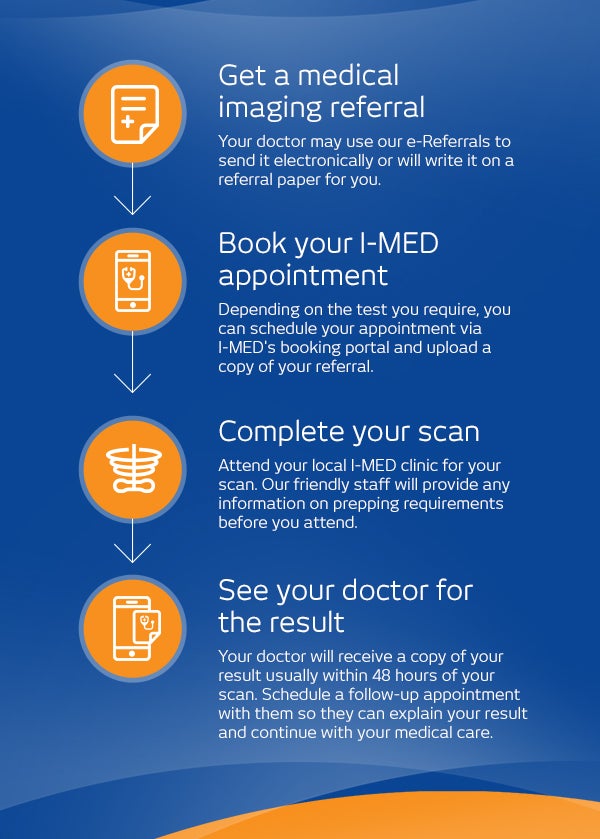 Our commitment to safety
As restrictions due to COVID-19 are in place, I-MED has ensured that patient and staff safety is the number one priority across all clinics. Find out what we are doing to ensure patient safety here.